July 2019
Total Design Source:
The Difference is the Designer
by Rona Mann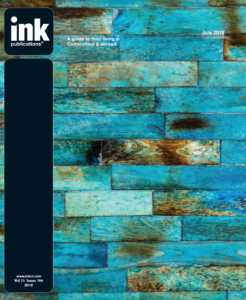 Chantal Lawrence has just the perfect mix of attributes to make her rise to the very top of her profession. It's what defines her and sets her apart. It's what turns first time clients into long term relationships.
Chantal is a much sought after designer, has worked extensively with both architectural and engineering firms, spent several years as a sales rep for Steelcase, the world's largest furniture manufacturer, and has managed to incorporate all this experience and talent into a creative and idea-provoking space on Main Street in Old Saybrook called Total Design Source.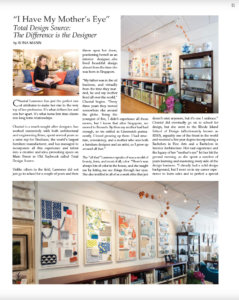 Unlike others in the field, Lawrence did not just go to school for a couple of years and then throw open her doors, positioning herself as an interior designer…she lived beautiful design almost from the time she was born in Singapore.
"My father was in the oil business, and virtually from the time they married, he and my mother lived all over the world," Chantal begins. "Every three years they moved somewhere else around the globe. Being the youngest of five, I didn't experience all those moves, but I know that after Singapore, we moved to Brussels. By then my mother had had enough, so we settled in Greenwich permanently. I loved growing up there. I had structure, consistency, and a mother who was both a furniture designer and an artist, so I grew up around all that."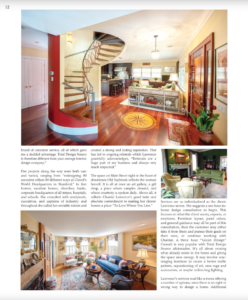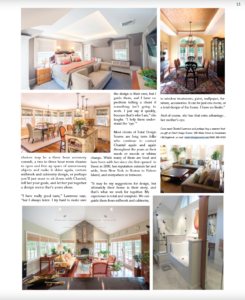 May 9, 2019
Summer Design by the Shore
by Chantal Lawrence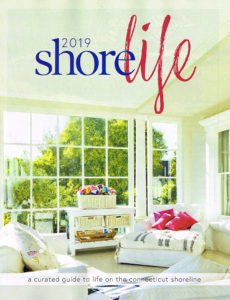 At the beach it's all about being relaxed and spending time with your friends and family. Your home and outdoors should exude that same casual nature with simple materials and elements that reflect the surroundings.
"When I envision a beach, I see soft shades of sandy beige, bright whites, a myriad of blue-greens accompanied by the textures of shimmering pebbles, beach roses, driftwood and breaking waves," says Chantal Lawrence, a licensed interior designer and owner of Total Design Source in Old Saybrook. "For me, this image translates into wicker, rattan, sea glass, rustic woods, sisal rugs, cotton duck fabric, batik patterns and shoreline prints."
TIMELESS STYLE
If you're trying to create a timeless style, stick to crisp white or neutral upholstered furnishings with neutral rugs accented by colors drawn from your favorite piece of art or textile.
"The furnishings should be casual and comfortable," she says. "Stay clear of the sloppy slipcover look or you'll always be feeling your home looks disheveled. Have one or two side chairs with arms that are light weight and easy to move around the room so older people have a chair they can push up and out of on their own. And have something whimsical to bring a little levity and help reinforce the casual vibe."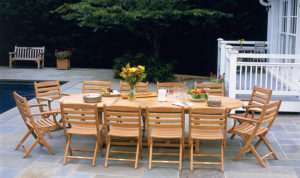 "When it comes to dining in the summer, you may want to consider a table that accommodates a myriad of set ups," Lawrence notes. "Our best seller is The Essex by Kingsley Bate at 122" long. The two half-moons on the ends set up as an independent 46" round and the rectangular table becomes an 8-seater at 76" long. Order now so you'll have it by the summer. Otherwise, it's a long wait."
SUMMER ORGANIZATION
"Get your backdoor or mudroom organized for the summer by rolling up beach towels and leaving them in a basket or container by the door," Lawrence suggests. "Have another container ready to catch flipflops and water shoes. Plenty of hooks on the wall for summer hats, wind breakers and beach bags are also a plus. And don't forget to create a caddy with plenty of sunblock! If you're lucky enough to have an outdoor shower, make sure you have a caddy with eco-friendly soaps, shampoos and conditioners."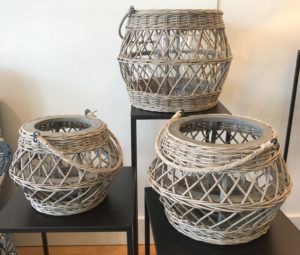 Lawrence says it "only" took her 20 years on the shoreline to realize when the breeze dies, the bugs come out. For that, she recommends an oscillating fan.
"If there is a breeze, you'll never be bothered again," she says happily. "Also, rustic lanterns with glass sleeves to inhibit the wind from dousing the flame are a must have for late evenings. There is nothing as enchanting as a flickering flame on a warm summer eve."
"Finish off a beach theme with a fabulous print or a well-placed accessory," says Lawrence. "No need to overdo it – be simple and tasteful. For just one design element to make a statement, investing a little money is worth it. Now you're ready to sit back and enjoy the summer!"
December 27, 2018
What to Expect When Working With an Interior Designer
by Jennifer Carmichael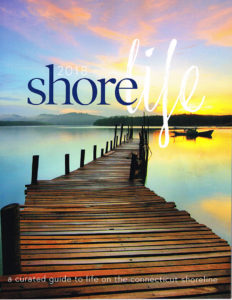 While most people are just getting up in the morning, Chantal Lawrence is already at her retail shop and design studio, Total Design Source, on Main Street in Old Saybrook.
"I enjoy getting up early – it gives me a healthy dose of peace and tranquility," says the licensed interior designer, whose 35 years of experience includes working for top 100 architectural firms and in the future industry. Her early routine transcends to her work with clients, offering a sense of calm and taking away any anxieties about starting a project.
"Designing one room can feel overwhelming, needless to say an entire house," says Lawrence. "Hiring an interior designer can save you unneeded stress, time, and money." She notes that the working relationship should employ three key elements: chemistry, clear communication, and creativity!
CHEMISTRY MATTERS
It's important that you and your designer are on the same page. Each designer has his or her own unique tastes, personality quirks, and business practices. Interviewing candidates is important in finding such a good match.
"Select someone who makes you feel comfortable and whom you can trust. Trust your instincts – chemistry truly matters," she says.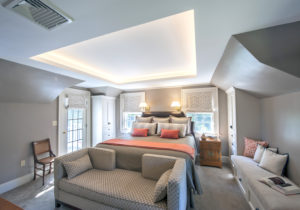 CLEAR COMMUNICATION
Decide if you want to be an integral part of the process or if you want your interior designer to take care of everything for you.
"Be sure to establish firm and clear communication," says Lawrence. "Determine your role, the designer's responsibilities, and set a budget and timeline."
"I want to understand the clients likes and dislikes, whether from a photo, a space or objects in their home," she notes. "Often clients can't figure out why something is not working. Being in their home allows me to see problem areas, define why it's not working, and what we can do to remedy it."
"There's a psychology to design," says Lawrence. "Your space needs to be beautiful, but function for you, too."
Expect your designer to ask lots of lifestyle questions: Who uses the space and how? Do you have children? Pets? Do you entertain?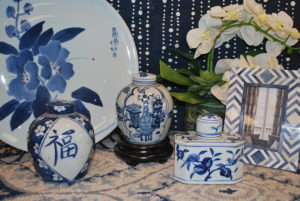 CREATIVE PROCESS
Your designer will create a floor plan along with visuals offering a full color palette, finishes, fabrics, area rugs, and lighting.
"I know where to look to find a particular fabric or element. My expertise allows me to create a unique look that represents your style," says Lawrence.
Ironically, people try to "fix" a space by constantly changing the decorative objects – accessories, art, and greenery.
"New pillows might make you happy for a little while," she continues. "But, if you ultimately don't fix what's wrong, you're just throwing good money after bad. Hiring a professional can truly save you money."
"Finishing touches should be in the minds' eye during the design process and pulled together once the space is assembled," she continues. "Adding softness and texture is like icing on a cake."
Remember: gather and combine all of the key ingredients before you frost and add sprinkles! By following these steps, you're "Love Where You Live," adds Lawrence.
April 17, 2018
Batiks, woodblock printing and painting create dimension and texture on an otherwise flat surface. In this article, Erica from The E-List mentions how she spotted Tribal Textiles fabrics here at Total Design Source. Tribal Textiles produce unique hand-painted fabrics in the heart of the African bush. Their textiles mix traditional African art with contemporary designs, drawing inspiration from the stunning Zambian wildlife and surroundings.
Each piece is drawn and painted by local Zambian men and women in a rich palette of hand-mixed colors, providing jobs in an area where employment is scarce.
Pillows retail at just $48 each and now through April 28th, Total Design Source is offering 30% Off Pillows!
Lighting & Decor Magazine
---
March 2018
Chantal Lawrence, owner and designer of Total Design Source, has been featured in the Lighting and Décor March 2018 Magazine. Lighting & Décor Magazine is a one-stop information source covering the lighting and home décor market.
"The Shops Around The Corner" article features hybrid businesses that combine retail storefronts and design studios. Written by Kimberly Wray, the article highlights Total Design Source and the experience one receives when visiting our shop.
December 20, 2016
A real antique: A 200 year old gem in North Cove, Saybrook gets more than a facelift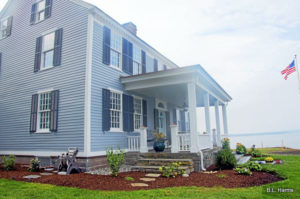 At 203 years of age, this 3,240-square foot classic Federal style home with nine fireplaces has been undergoing a restoration, both inside and the grounds outside, by a host of local designers and craftsmen who came together to preserve its historic integrity white embracing the 21st century. It didn't take long for architect Denise Von Dassel of KV Designs, Tony Brodeur and Dave Martel of North Cove Construction, Chantal Lawrence of Total Design Source and Karl Kaufmann Jr. of Kaufmann Masonry to bring all of the possibilities to life in this riverside gem.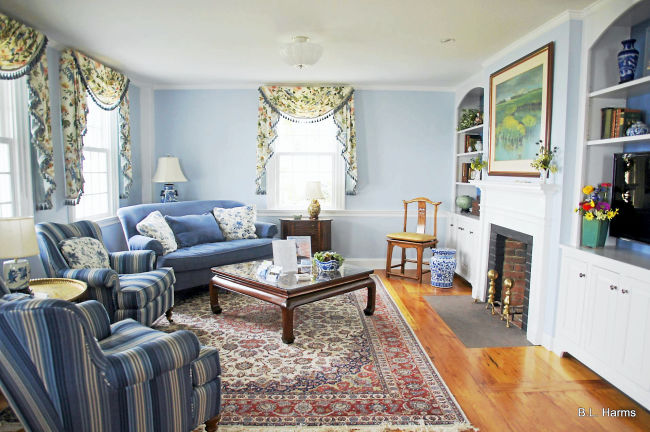 November 12, 2014
"First things first, get organized and get rid of clutter." Total Design Sources client's biggest decorating problems revolve around storage. Chantal will come to your house and brainstorm all manner of solutions, from custom designed built-ins to a swift rearrange of furniture. Chantal Lawrence, owner and designer of Total Design Source, believes strongly in "green design"; reuse, rehang or reupholster things you already own vs. buying new stuff.
BEFORE                                                      AFTER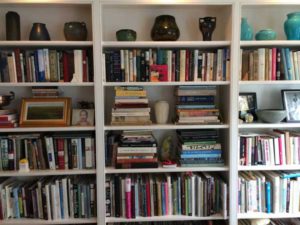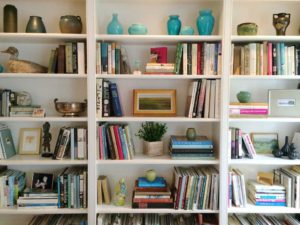 January 12, 2011
At Total Design Source, we have a vast array of resources where we can help find exactly what you are looking for. Bring in a picture from a magazine and we will find it along with suggesting complementary accessories or furniture. In this article from Erica, creator of The E-List, she talks about how Chantal was able to find the coffee table that she was searching for.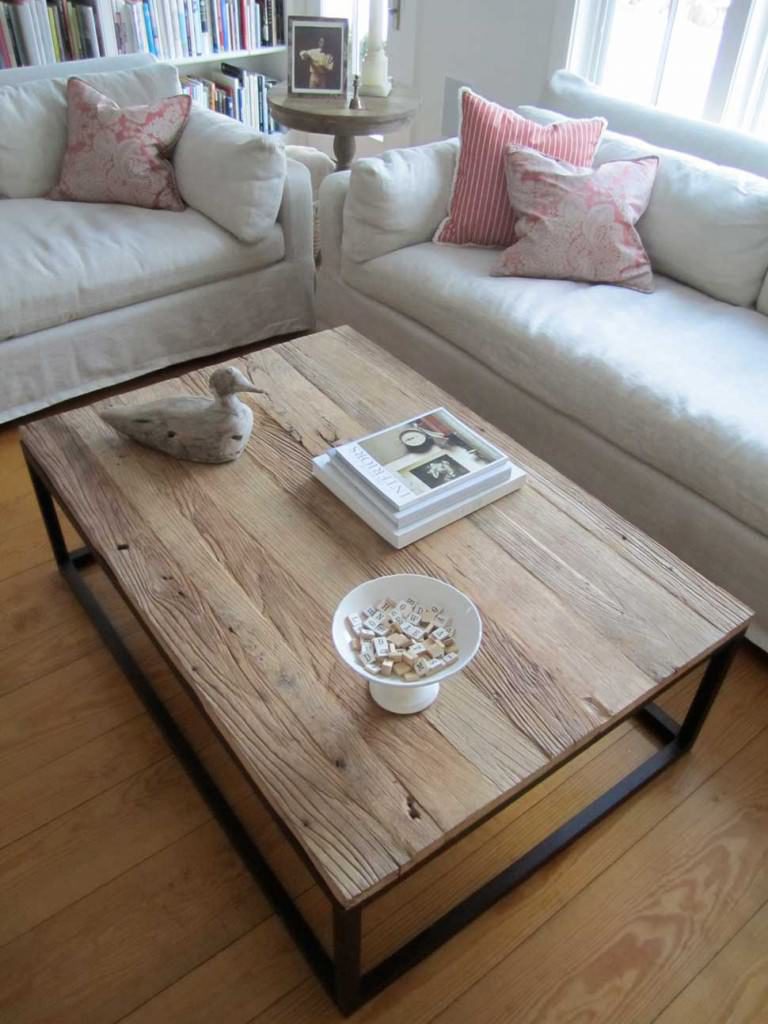 The E List is your top guide to the best shopping in CT, best CT restaurants, CT events, cultural events in CT, CT museums, best restaurants on the CT Shoreline.